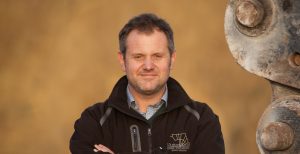 Sourcing Indigenous Stone
By Marcus Paine
The UK has of course had a long history of Building with Natural Stone. From Cornwall to the North of Scotland we have been gifted with a rich diversity of Granites, Limestones, Sandstones, Slates and all of the great many Igneous, Sedimentary and Metamorphic permutations that sit around this simplistic group.
These Stone types have been critical in forming the varied and particular style of rich built heritage that surrounds us across the land and define both the Urban and Rural landscapes that give us the difference between Aberdeen and London, The Cotswolds and Caithness, Edinburgh and anywhere you care to choose in Yorkshire. And for many Centuries but particularly those of the 18th and 19th centuries the accelerated development of this built environment was underpinned by a significant and widespread Stone supply Industry of thousands of generally small Quarries that supported a very large workforce…. supporting tens of thousands of people in Scotland alone.
As shipping developed and then with the arrival of the railways these Quarries produced massive quantities of quality material, hard stone setts, kerbs and steps, Walling Stone, fine masonry, Roofing Stone, all that such a diverse UK geology could provide and supplied it up and down a fast developing network. This saw a highly skilled workforce across the UK provide an absolute "sense of place"….The Granite City of Aberdeen, The rich Red Sandstones of Glasgow to Liverpool, The Sandstone City of Edinburgh's Craigleith led New Town, the magnificent Portland style of London with a host of Sandstones flocking to the Capital as well…..the list is almost endless.
But whilst a great deal of this Built Heritage survives today, the Industry that supported it is under threat. The British Stone Industry, a fraction of its former self finds more and more that it must endlessly battle against a growing use of imported Stone. So given that we have such a fantastic resource on our doorstep and one that continues to enhance our Built Environment, how can we ensure that we retain its availability and all of the benefits that follow from its use? Industry has reacted positively to the challenges facing it  by accepting and accelerating its role in promoting these proven great British stones in all their rich diversity and to a certain extent this has gathered pace recently with the creation of The Stone Federation GB Quarry Forums promotional efforts in creating 'The British Stone map tool' online, numerous articles, editorials and features around the  Welcome to British Stone theme all allowing the user instant connection to available stone-types and contact details of the many Federation member suppliers, whilst at the same time other initiatives like The MPA's Dimension Stone Group (Dimension Stone being that extracted for building and masonry use as opposed to Aggregate use) have created a positive group environment for UK extractors to share best practice in Health and Safety, Planning development and the promotion of efficient production techniques which then continues to ensure that The British Stone Industry remains at the forefront of best management of its resources and operatives. The Stone Federation GB's Ethical Sourcing Register aimed at providing comfort to specifiers that the Companies they select are ethically responsible, the Federations Heritage Register providing information on suitable companies for all aspects of heritage supply and build and the recent formation of collaborations like for example 'The Scottish Stone Group' aimed at making the link between Industry and Political will in Scotland to see Indigenous Stone with its obvious Ethical, Sustainable, Rural and Circular Economy, Skill retention and suitability to environment advantages given at least a level playing field on which to compete all assist greatly in making people more aware of what's available and providing a level of confidence in the indigenous options.
Beyond these useful initiatives it must be acknowledged that the Carbon Footprint conversation remains a constant challenge. As noted by Gillespie & Tracey's 2016 report "The State of the Industry"
Stone is a heavy commodity, so transporting large volumes by sea, rail or road comes at a significant environmental cost. Stone imported from distant countries like China, India and Brazil can still be cheaper to buy in the UK than locally quarried stone, because of relatively low labour costs and overheads in those countries, and the economies of scale that big operations can bring to bear; however, the relatively low cost of imported stone at point-of-sale in the UK obscures the significant environmental cost of transporting such a heavy commodity over long distances. Sandstone imported into the UK from China has roughly six times as much embodied carbon as sandstone sourced in the UK. 
 And the most frustrating elements of this for the UK Stone trade is that currently the Carbon produced by these imported products is not counted until the material reaches land in the UK because the production and transport Carbon produced up till this point belongs to the Exporting Country…..meaning that under current rules a Stone imported from China (or other) has a lower Carbon Footprint scoring than a Stone produced a few miles from a site…Something that is clearly not the case.
Also the lower cost of imported material does not reflect the fair wage rates that we support in the UK or the world leading Health and Safety, Mineral Planning and restoration funding that are part and parcel of operating within enhanced UK Standards. A great many Public and private enterprises have spent time focusing quite rightly on procurement Policies that acknowledge sustainability, ethical sourcing, skill retention and the benefits of local Economy spending together with other highly laudable positions which all tend to support the inclusion of the indigenous options and yet despite this UK suppliers continue to see specifications broken at late stages of contract awards in favour of marginally cheaper imported options…yet options that don't necessarily reflect the whole lifecycle cost of these changes.  Ironically we often see Architects and Specifiers greatly frustrated also by these changes when they have often invested much time in considering selection early in their project.
So, what should Designers and Specifiers do if they feel that these issues count and that Indigenous Stone has a role to play for them?
Firstly consider the truths that surround us in our historic built environment. Things like Range and Variation within our indigenous stone types exists and should be celebrated. We tend to look broadly at Buildings that have weathered and toned into their surroundings over many years but look closer and you will see both tonal and marking variations exist pretty much everywhere….so our modern assumption that range must be restricted to almost non-existence is not reflective of that which we celebrate around us and also given such restrictions precludes many indigenous Stones from consideration and pushes the cost of those that can remove variation up significantly in price.
Also then consider that historically the cleanest stone was reserved for the "Front Door" elements of buildings….meaning that you will see in the vast majority of cases that the Front façade, main Entrance, Fireplaces…key public areas use the narrowest range whereas all other elevations are opened up to a broader and more cost effective choice.
Next bear in mind that different stone types/geologies have different sizing limiting factors and looking at the built heritage tells you a great deal about the most economic sizes that can be achieved from any particular source.  Be aware that very large very thin panel sizes are simply not possible from some stone types or that these same sizes make it more challenging to reduce range from panel to panel so the unit sizes you wish to achieve have a great bearing on the choices and costs you will get. Again this noted perfectly by Gillespie & Tracey in The State of the Industry report 2016;
Increasingly, specifiers demand stone that has uniform character and can be produced in regular block dimensions (ignoring the fact that it is a natural, and therefore inherently variable, material, which arguably is a key part of its attractiveness in traditional buildings);
Feel confident in engaging with suppliers early on to establish a clear understanding of your project and the stone's suitability to achieve it. Early engagement here can often lead to small alterations that save positively on your budget and the Suppliers would far rather be part of that conversation with you than finding their stone losing out on a specification late on due to other considerations or misconceptions plus of course by engaging early lead times can be clearly expressed and agreed ensuring no costly hold ups on site. It is my experience when speaking to the UK suppliers that we are all very keen to do a great job with quality materials and of course this is because generally we are supplying areas in which we live and work and therefore our reputation is there for all to see. UK suppliers want to be proud of their work and for that to in turn create repeat business so we have as much vested interest in a great result as do the Designers who work so hard to create the buildings in the first place.
The UK Stone Industry, whilst vastly reduced from its Historical peak still holds on to a great level of pride and skill in this ancient craft and furthermore has developed with significant investment in modern techniques and machinery to ensure that we can still provide a viable choice over imported materials. We offer modern solutions to play our part in creating more great built heritage today to further enhance that around us, in the same ancient stone types that have been proven over so many years and welcome the opportunity to be part of the conversation.
The latest Stirling Prize final 6 shortlist included 3 Buildings using British Stone…. If you would like to know more about UK Stone and how it could work for your projects why not check out the Stone Federations British Stones Map for a start and feel free to get in touch for any further information.