Worth of product produced per year.
Generations of Experience running through the Business
Sites throughout Scotland & North England
Growing and evolving since 1994
Having launched Hutton Stone Co Ltd in June 1994 in the Scottish Borders we have steadily and carefully grown the Business starting back then with just one employee (that being Marcus…the Managing Director) to a staff now totalling 40 and we are proud to say that very many of those original staff we took on in the early years are still part of our highly skilled and experienced Team today. Initially working reclaimed stone from our West Fishwick base and buying in block and slab from other suppliers we saw our opportunity to reopen our first exclusive source, Swinton Quarry in 1999 and this has organically developed into 3 exclusive Quarries, Swinton, Hazeldean & Darney and two Production Sites at West Fishwick and at Darney producing everything Natural Stone from large scale Masonry and Bulk Walling supplies to bespoke Carving and hand cut lettering. Hutton Stone…..We dig Stone.
With 11 Masonry saws ranging from 3 metre down to 800mm diameter, Multiwires, Single Wires, Profilers, 5 Axis CNC and Milling & Routing machines we have the production machinery to deal with any project. We have four Walling production lines between our two Production Sites producing around 80m2 of Coursed or Random Walling per day and are able to offer bulk supply to larger developments with scheduled site call off or bespoke one off projects with no issue. With 5 fulltime Banker Masons, 2 permanent Carvers/Letter Cutters, 7 Walling masons, 11 Sawyers plus full Office back up including 2 permanent Pricers and AutoCad facilities we are able to provide a full Masonry supply service and with our own specialist remote crane offload vehicle plus tippers and flat artic options all available we are able to offer a full delivery service to suit any need. Our Quarries all have current planning permissions running from between 15 to 25 years with good reserves plus each site is equipped a Quarrying Team with modern large scale excavators, drill rigs and other necessary extraction equipment.
Hutton Stone……we dig stone.
11 Masonry Saws
3m down to 800mm
80m2 Walling produced per day
Carving Shed
Mulitwires
Single Wires
Profilers
5 Axis CNC
Milling & Routing machines

Wherever you are, We've got you covered
As the reputation of our own quarried stones has grown we have supplied both Swinton and Hazeldean to London, various locations in Cheshire, Cambridgeshire, Northern Ireland, and to a larger extent The North East of England, The Scottish Borders, The central Belt, Edinburgh and Glasgow and beyond. We have even supplied to Shetland and Skye! Our delivery driver Ross loves a nice drive!
Because we have so many other stones in addition to our own quarried stones, we are able to match the extreme diversity of the geology all around us!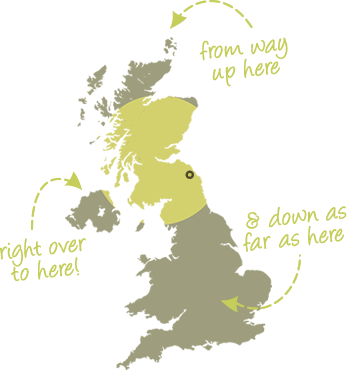 Almost 40 people are responsible for making Hutton Stone the thriving company that it is today.
We go out of our way to hire the most dedicated, passionate and highly skilled people in the industry.
Click below to meet some of them . . .
It's in our blood,
6 generations worth!
With the working of natural stone having been in our family for nearly 2 centuries, we formed Hutton Stone in 1994 and have continued to invest in modern quarrying and processing machinery. We now boast over 40 staff. Click the button below to find out about our history.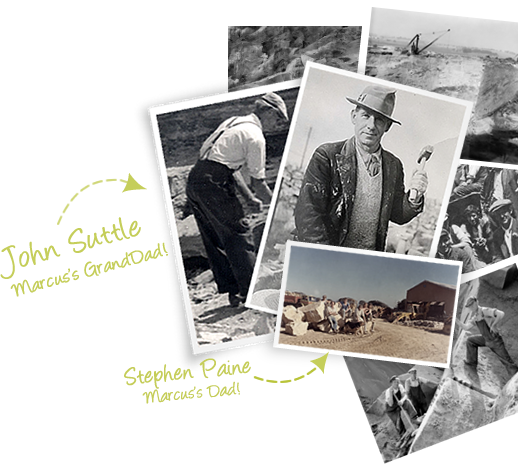 We take our commitment
to our environment seriously,
VERY seriously!
We are fortunate enough to work directly with our environment. An environment that has been affected by millions of years of geology and environmental changes. This makes it very easy to want to be a responsible part of that. Click below to find out how we uphold our responsibility to our environment as well as the local community.