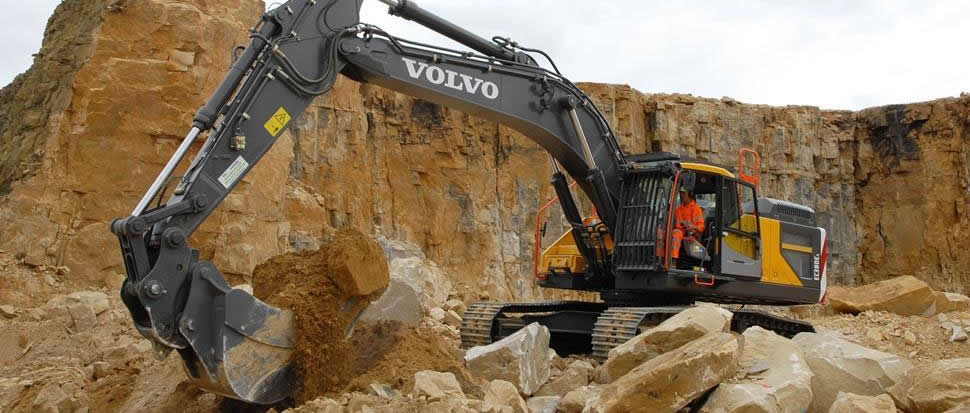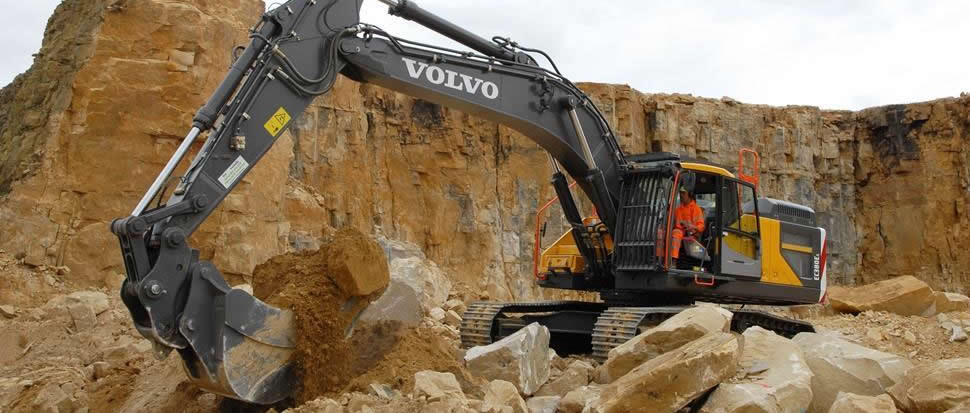 Below is an extract from a recent press release that Volvo Construction Equipment UK published as a press release: 
Hutton Stone Co Ltd based close to Berwick upon Tweed in the Scottish Borders has purchased a new Volvo EC380E crawler excavator for a new venture that has started up in a sandstone quarry in Northumberland.
The new thirty-eight tonne EC380E will become the prime mover at the company's recently acquired Darney Quarry, located just off the A68 near the village of East Woodburn in Northumberland, and was chosen following an extensive review of the marketplace. "We looked at all the likely candidates and having taken on board third party references coupled with our own opinions about the build quality and robustness of the Volvo excavator, and settled on the EC380E," comments Managing Director, Marcus Paine. "After all, you always get what you pay for and besides being offered a competitive package, the prospect of strong residual values up to five years from now really helped us make our minds up choosing the Volvo," he says.
The new machine has been put in charge of extracting sandstone blocks from Hutton Stone's Darney Quarry and in order for it to carry out its duties, the machine has been equipped with a hydraulic attachment bracket, a bespoke 1,200mm wide, long floored bucket and a ripper tooth designed and manufactured by Leybourne Engineering. The machine has also benefited from the addition of an optional FOGS guard for the operators cab. The EC380E is powered by a Stage-IV compliant engine developing 306 net horsepower offering the latest in engine technology and operating sophistication. The Volvo Care Cab offers a large roomy interior with plenty of leg room and foot space. The excellent all-round visibility is enhanced by pressurized and filtered cab air supplied by a 14-vent, climate control system. An adjustable, easy-to-read LCD colour monitor provides real-time information of the machine functions, important diagnostic information and a wide variety of work tool settings, besides providing visibility to the operator from the rear and side view cameras.
The machine will be in charge of the delicate job of removing and rehandling stone blocks weighing up to twelve to fourteen tonnes in weight following selective drilling and splitting in the quarry. It will also assist in disposing of waste material to the tip area which will ultimately be used in land restoration.
"We need to be flexible in what we are extracting according to customer demands," explains Quarry Manager, Martin Brachtvogel. "This type of quarrying is all about finding tangible products from as many elements of the geology as possible, and to that end, we'll be producing material from dry-stone walling through stock-sized coursed walling for new housing, paving and rockery stone, together of course, with all elements of dimension stone masonry that is required in the new build and restoration sector, including block-and-slab for other manufacturers around the country. This can either be sold to customers directly or processed here in our cutting shop and then sent to our main workshops in the Borders for further processing by the company's in-house team of sawyers, stone masons and carvers."
"A good majority of what we produce is in the supply of high-quality sandstone for prestigious building restoration and renovation projects in major conurbations such as Edinburgh and Glasgow but this stone has relevance throughout the north of England and all of Scotland, and has supplied projects as far down as London and across Ireland – of course we will be keen to continue and progress that going forward."
Dealing initially in reclaimed stone, the company has grown steadily throughout the 1990's by re-opening historically important quarries in the Borders area and Northumberland such as Swinton, Hazeldean and most recently Darney Quarry with substantial investments in modern quarrying and processing machinery. Hutton Stone Co Ltd currently employs 35 staff and has an annual turnover of around £2m.
Volvo Construction Equipment markets wheeled loaders, articulated haulers, hydraulic excavators, Volvo utility equipment and Volvo road equipment products in Great Britain. There are eight strategically placed customer support centres and a network of utility equipment dealers to ensure high quality customer support is maintained throughout the country.