Almost 40 people are responsible for making Hutton Stone the thriving company that it is today.
We go out of our way to hire the most dedicated, passionate and highly skilled people in the industry.
Click below to meet some of them . . .
Wherever you are, We've got you covered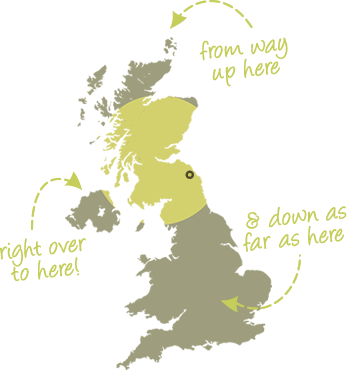 As the reputation of our own quarried stones has grown we have supplied both Swinton and Hazeldean to London, various locations in Cheshire, Cambridgeshire, Northern Ireland, and to a larger extent The North East of England, The Scottish Borders, The central Belt, Edinburgh and Glasgow and beyond. We have even supplied to Shetland and Skye! Our delivery driver Ross loves a nice drive!
Because we have so many other stones in addition to our own quarried stones, we are able to match the extreme diversity of the geology all around us!
We take our commitment
to our environment seriously,
VERY seriously!
We are fortunate enough to work directly with our environment. An environment that has been affected by millions of years of geology and environmental changes. This makes it very easy to want to be a responsible part of that. Click below to find out how we uphold our responsibility to our environment as well as the local community.
It's in our blood,
6 generations worth!
With the working of natural stone having been in our family for nearly 2 centuries, we formed Hutton Stone in 1994 and have continued to invest in modern quarrying and processing machinery. We now boast over 35 staff and an annual turnover of around £2 million. Click the button below to find out about our history.